I am often asked the question, Deryck, please can I have a decent pair of wire strippers? And my mediocre answer has often been, well, I have some fairly good ones for £4.35, made in China, haven't had too many complaints… 
That changed when we became stockists of the great Italian-made PTS cable stripper.
Professional Grade Wirestrippers - https://lampfix.co.uk/shop/product/07395-pro-auto-wirestripper-16972
Now many people have different pet methods of stripping cable, and when we look at what the requirement is, we must ascertain whether you are thinking about stripping the outer or inner cores.
For most lighting flex our PRO PTS4 Auto wire strippers (as mentioned, manufactured in Italy) are built to last for life, strip both the outer and inner core insulation, and very neatly and easily too.
So if you are a professional wirer who wants a really good tool that will last, I would suggest this to be the best buy for you.  Today (17th April)  I can see this listed on Amazon for £26.67, and we can supply at a pretty similar price of £26.16 here at Lampfix to our trade customers. Please contact us to see if you are eligible for trade pricing access.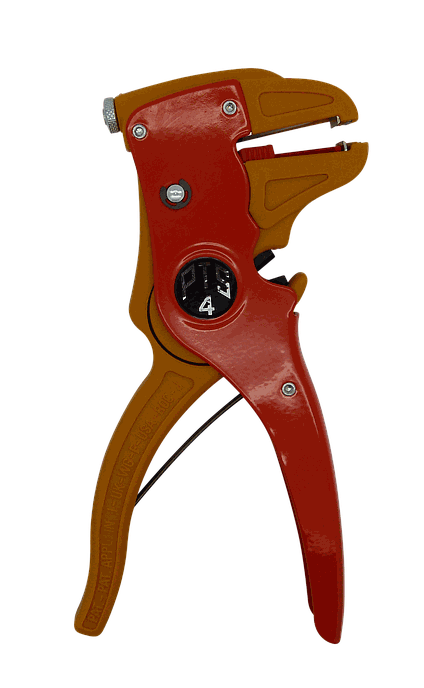 Hobby-Grade Wire stripper - https://lampfix.co.uk/shop/product/07180-auto-wirestripper-3148
If you only do a little bit of wiring from time to time, I would consider our budget Auto wire strippers. They are not so hard on the pocket and should last you at least a year or two, perhaps more. They work in the same way as the professional version, but their construction is less robust. These are £5.22 inc VAT to trade customers.
Stripping Braided Flex
Not just wirestrippers are used when preparing braided flex so I would encourage you to watch our video on this link https://lampfix.co.uk/blog/lampfix-news-1/post/taming-the-twist-4 on how to do this.
Other Wire strippers.....
Heavy Duty Wire strippers https://lampfix.co.uk/shop/product/07182-heavy-duty-wirestripper-3239
For other uses we list Heavy Duty wire stripper which works slightly differently than our Auto wirestrippers, where you lay the flex flat against it rather than in the 'mouth' like the auto wire strippers. You need to pay attention to the length of insulation you want removed, whereas with the Auto wirestrippers you can poke the flex up to the stopper, which you can set. These are £11.82 inc VAT to trade customers.
Rotary Wire Stripper https://lampfix.co.uk/shop/product/07848-professional-rotary-cable-stripper-3363
If you use a lot of 3183Y thick PVC flex our Rotary wirestrippers give a really nice clean circular cut around the outer insulation, without leaving a jagged edge. The trick with these is to only rotate them once or twice. Rotating more that this can result in a spiralling slice down the flex insulation. Great for repairers of appliances with thicker cables. These are £25.74 inc VAT to trade customers.
And finally...watch our quick 17 sec video!