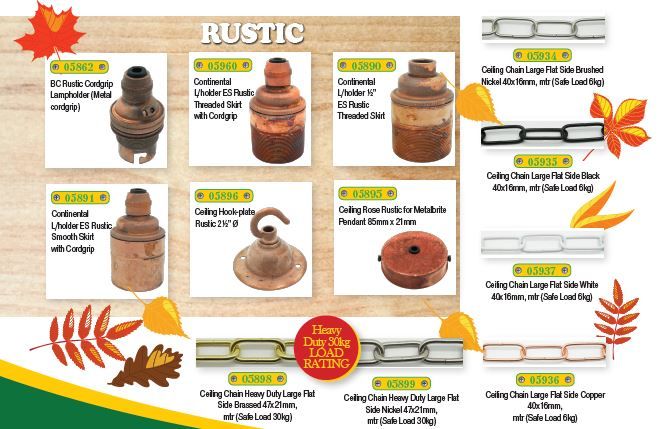 Click Here
SEASONAL PUBLICATION DOWNLOAD:
As the leaves change in colour so do our products! Enjoy the
warm Autumnal finish of our new rustic range of lampholders
and ceiling plates. The sought-after colours of black, white and
copper can now be found in our chain selection, as well as 2 new
high-weight rated chains in brass and nickel. Neat ceiling-mounted
cord restraints are now available for 'spider' style pendant lighting
arrangements; quirky new colours 'Pigeon' and 'Linen' in our
braided flex range. A couple of new thin wires available for those
who restore chandeliers; brass colour 'Gooseneck' fittings for those
who want to make something creative in lighting and finally a
couple of handy cordless rechargeable LED worklights thrown in
for good measure! So we hope you will
find something to order from this flyer and look forward
to hearing from you soon.
Happy Autumn!